Residents of Oguldareh village of Lachin went to their native land after 29 years of longing.
"Report"employee assigned to Lachin reported that they set foot on the territory of Lachin for the first time after the liberation of our lands from Armenian occupation.
Thus, the family members of the veteran of the First Karabakh War, the deceased Ali Aliyev, who was under Armenian siege for 54 days – his wife Zeynab Aliyeva, daughter Turaj Aliyeva, sons Imdad Alizde, Babek Aliyev and Mirza Aliyev, went to Oguldara village where they were born and grew up after many years.
The visit of those persons took place within the framework of the filming of a documentary film about the life of 19 people under siege that lasted for 54 days.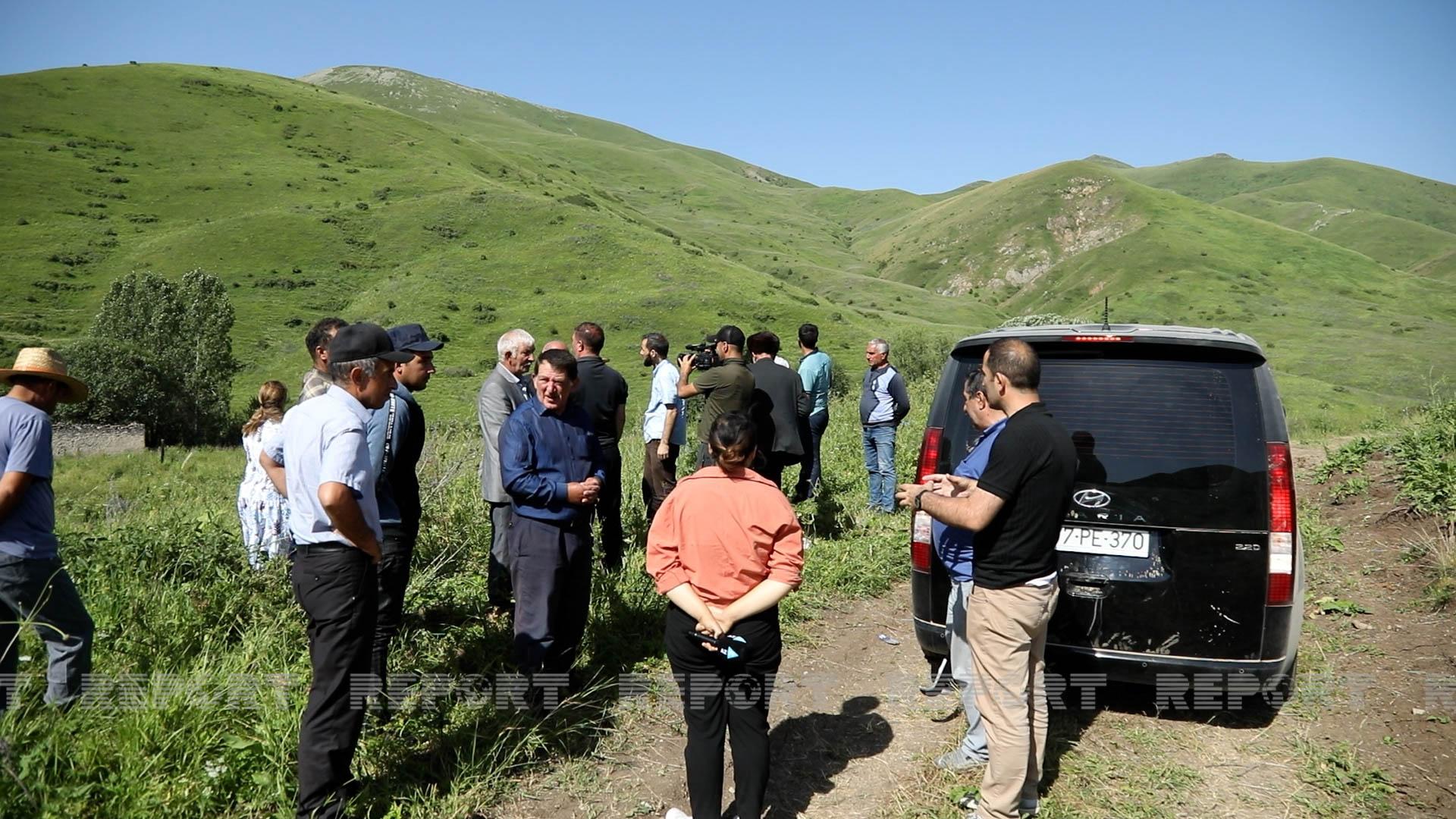 During the visit, the local residents, who were reunited with their native villages and homelands, could not hold back their tears at the entrance of their houses.
The village of Oguldara was occupied by the Armenian armed forces on March 31, 1993. During the occupation, the enemy destroyed the village of Oguldara as well as other settlements. The Armenians did not leave a stone unturned, they destroyed and burned the houses.
At present, beekeeping and sheep farms have been moved to the pastures of the village. Life is reviving in Oguldara.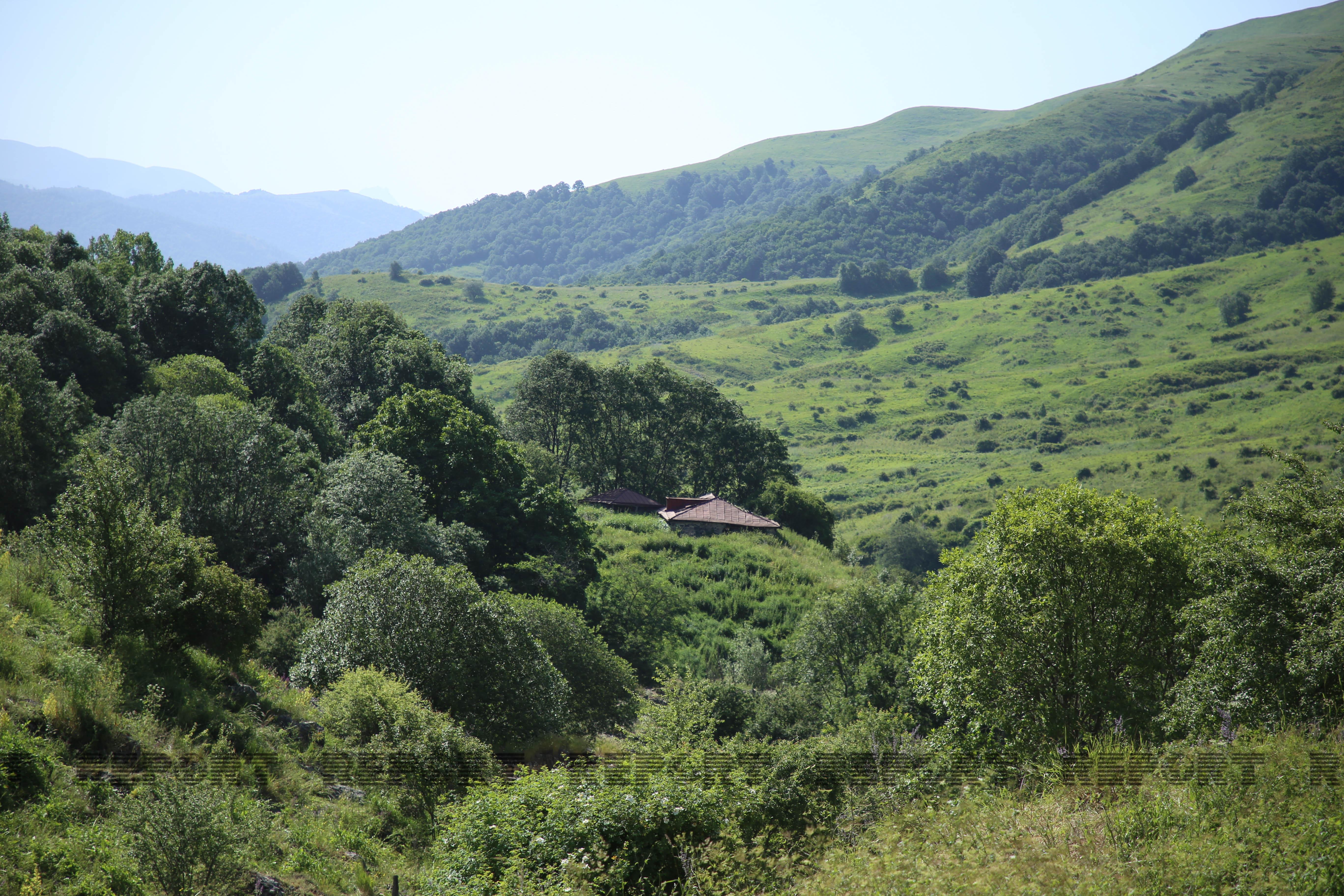 Zeynab Aliyeva said that she left Oguldara village for the first time in 1992.
"It's true, we took everything out of here. Then the late teacher Ali said, "I'm going back to my home." He did not accept to go to anyone's house. I protested, but he did not agree. On October 1 of that year, we returned to our village from Omar Pass, where we stayed temporarily. On March 30, it was announced that Kalbajar was occupied by Armenians. The roads everywhere were closed and we were surrounded. We sent my sons Mirza, Khidir, my daughters Turaj and Rahima away with one of the cars. Imdad, Babek and I had to leave the village on foot. I suffered a lot when I was on the road. My legs are swollen. My legs were bleeding as I walked. "We survived crossing Omar Pass in cold weather with difficulty."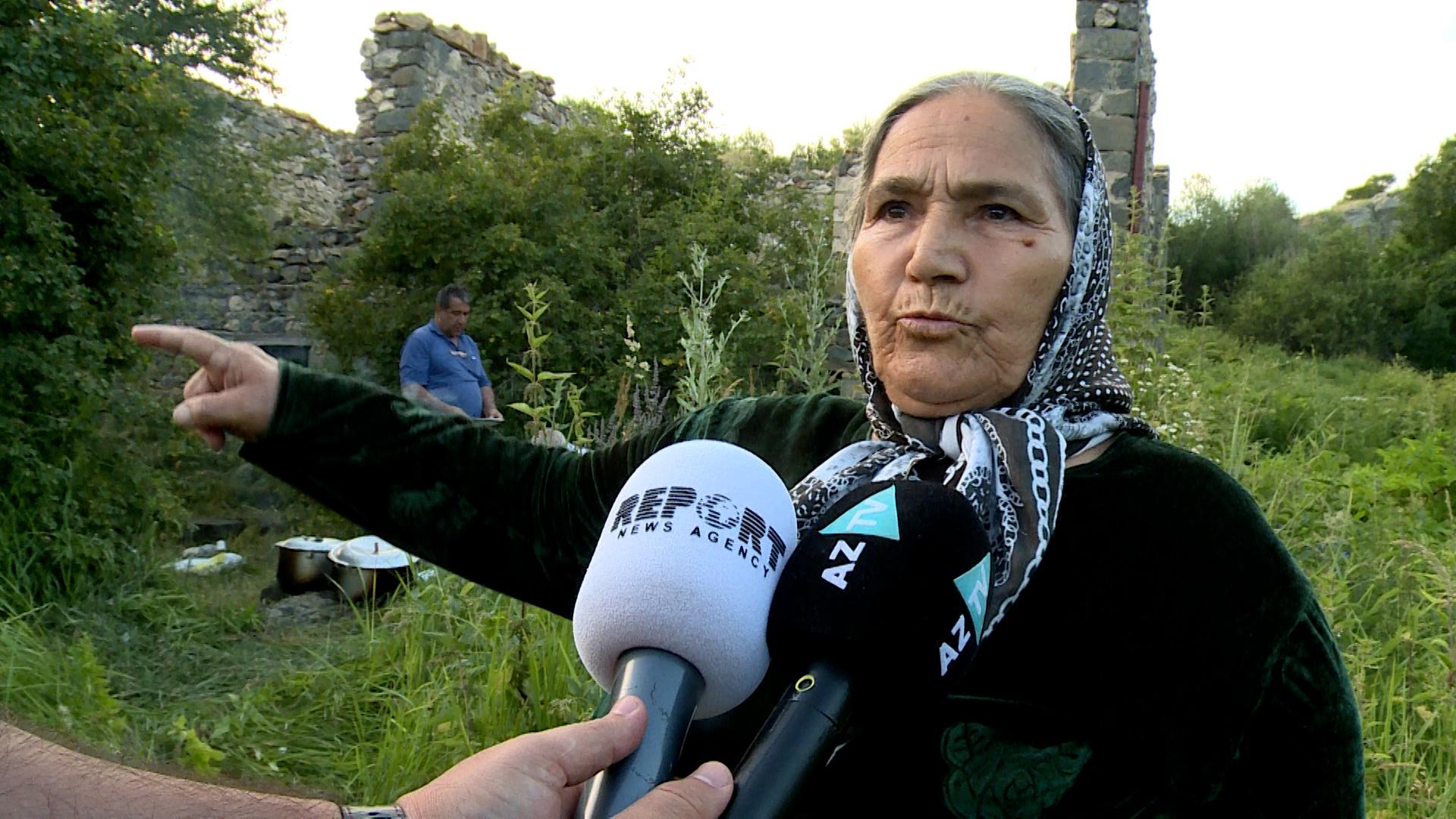 "When I was walking, I was afraid that I would suddenly be taken hostage by Armenians. I was very worried about my children. When I stayed behind, my children were waiting for me. But I told them to leave quickly, suddenly we will all become hostages to the enemy. My brother met us after descending the Omar pass. Then we went to their house. Everything we had left in the village, we didn't take anything with us, we only escaped with our lives. My husband Ali Aliyev did not leave the village and remained under Armenian siege for 54 days. Here we had a good house, cattle and horse. All remained to the enemy. We suffered a lot here, but we were not lucky. Now we have come here, but Ali Aliyev is not among us. I believe that now his soul is happy", Z. Aliyeva emphasized.
Babak Alizade said that he was 11 years old when he was forcibly displaced from his homeland. He is very happy to return to his father's house after 29 years:
"Of course, sometimes a person cannot express his feelings and finds it difficult to find words. But our joy knows no bounds. I remember my childhood memories here. Right now, I feel like an 11-year-old teenager when I left the village. I have those feelings. I know that my Grandfather at that time. Every inch of this village is dear to me. But unfortunately, my father did not see these days. I spent my childhood in this village. Here we would gather with the children and play various games. Every season in the village has its own beauty."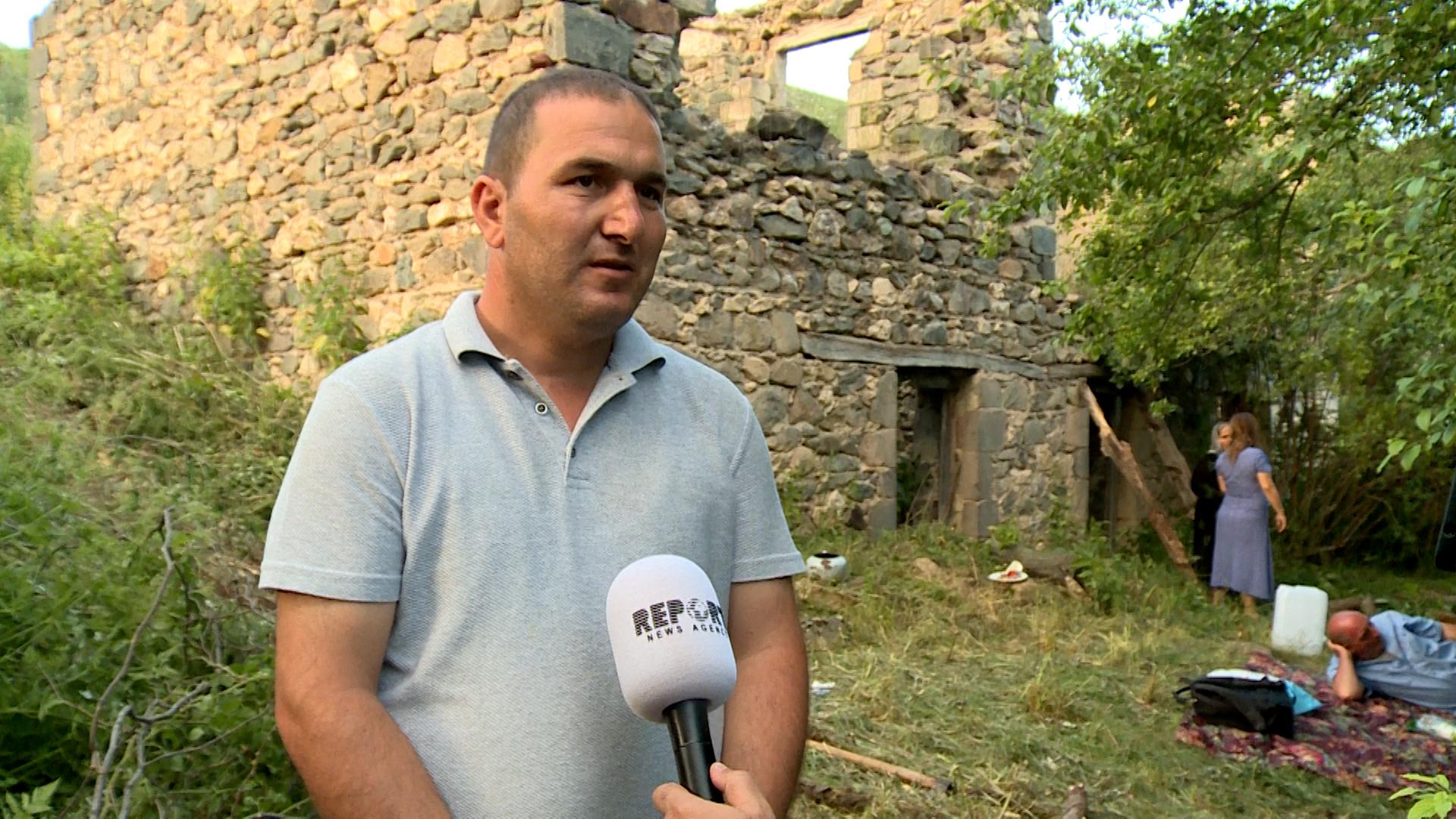 Turaj Aliyeva said that coming to Oguldara village after 29 years is a dream for her.
"I think I'm dreaming right now. I couldn't believe that after 29 years I will return to my native land and home. Today, we cleaned our door and chimney, cleaned our stove, prepared our food, put coals in our samovar and brewed our tea. Now we visited the areas where we played here in childhood, one by one, we visited the destroyed places. It is also nice for us to see our burnt house in this state. Because we found our home after many years. We never thought we would come here. True, we lived with hope. Seeing them today is a different feeling. May God have mercy on all our martyrs and heal our veterans. At present, thanks to them, we have come to our native village."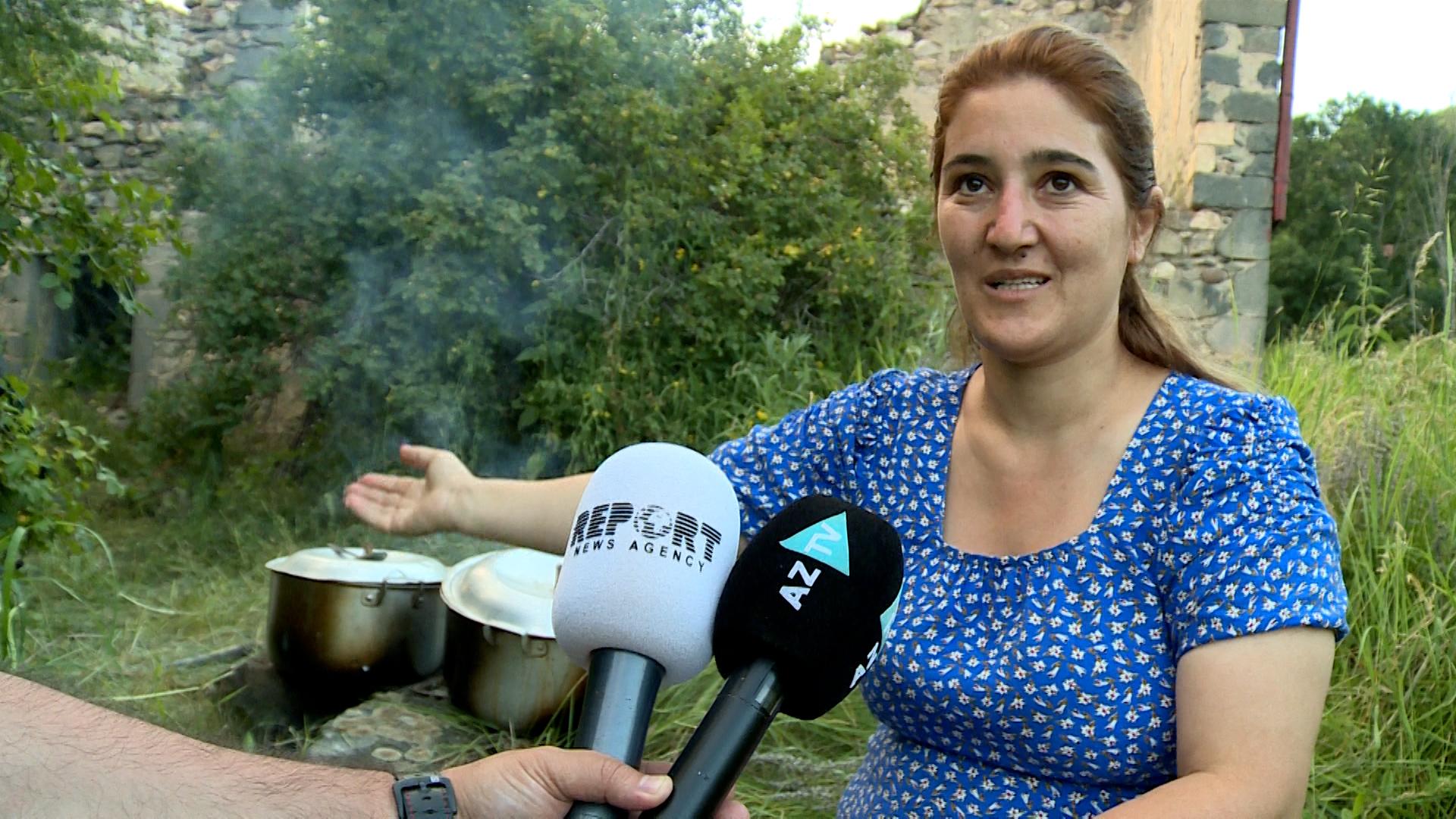 Imdad Alizade said that the village was completely destroyed after the occupation of the Armenian armed forces:
"After 29 years, 3 months and 15 days, I came for the first time to my native land – Oguldareh village of Lachin. In this ruin you see, there were houses of a prosperous village. In this area, which was destroyed by the enemy, people lived their lives quietly. The nature of the village is very beautiful. Oğuldara is naturally located in a good place. Residents were overwhelmed with their daily worries. We were out of here in the blink of an eye. At present, the people of the village are slowly coming here. They moved their farms here within the framework of permission. Our house is located in the lower part of the area where we are standing now. Due to the lack of habitation here for many years, trees and bushes have grown in the areas, and the road has disappeared. Our school is on the opposite side. Back in 1992, when the enemy came to this village, one of the first places they burned was our school. Of course, there is no trace left of our house, the enemy destroyed and burned it. But still, this place is sacred for me."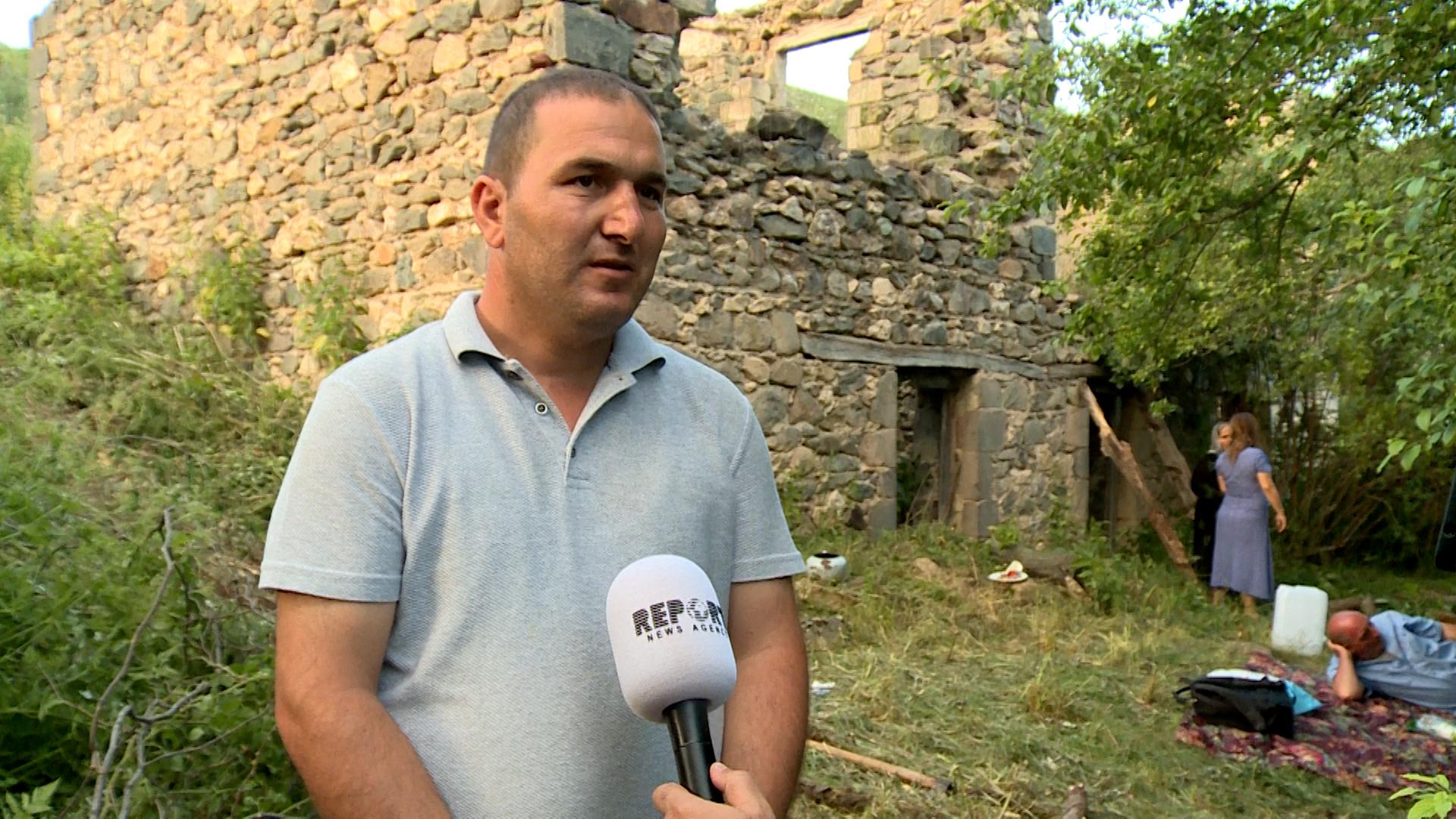 I. Alizade said that the two-story house where he used to live was built by his late father Ali Aliyev, a veteran of the First Karabakh War, with his teacher's salary:
"He suffered a lot here. My father built our house piece by piece."
It should be noted that a few days ago, a group of people who were under Armenian siege for 54 days from March 31 to May 23, 1993 visited Kalbajar and Lachin regions. They visited the areas where the events took place 29 years ago.
A documentary is being made about the life of 19 people under siege that lasted for 54 days. Ayaz Mirzayev, the chairman of the "Azerbaijan Journalists' Network" Public Union, is the scriptwriter of the screenplay "Parabuzen", filmed with the support of "Global Media Group". The documentary will be released to the general public soon.
It should be recalled that A. Aliyev, one of the survivors of the war, wrote the book "54 Days in the Armenian Siege" about the painful days. He died on July 2, 2017.